Skip to Content
Medical Equipment & Surgical Supplies
Medical Equipment & Surgical Supplies in Commack/Dix Hills
Vanco Pharmacy provides a wide range of medical equipment and surgical supplies. Having served the Commack/Dix Hills community for over 50 years we have the unique ability to anticipate the needs of our community. Our shelves are well stocked for your convenience and if you have any special requests we will be happy to place a special order for you. Customer care is our top priority, and we're committed to helping you find healthcare solutions to meet your needs.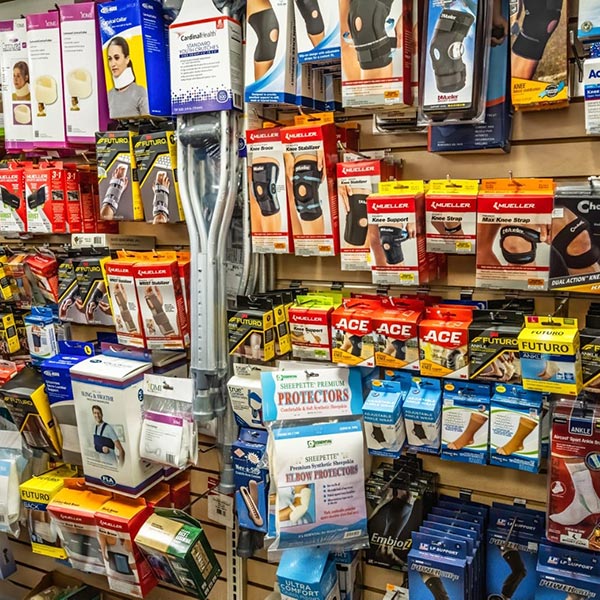 Our Medical Equipment Options
Vanco Pharmacy is Commack/Dix Hills' primary medical supplies provider. Our customers can take advantage of our wide range of bathroom safety features that can help them to maintain their independent lifestyle. Others may benefit from our selection of ambulatory aids. We encourage you to visit us to see our selection and medical equipment, including:
Grab bars
Raised toilet seats
Shower/bath seats
Canes
Walkers
Rollators
Wheelchairs
Transport chairs
Knee scooters
Nebulizers
Commodes
Over the bed tables
And more!
Surgical Supplies at Your Local Pharmacy
Vanco Pharmacy is Commack/Dix Hills' one-stop-shop for surgical supplies. Whether you need a brace to relieve your back pain or a cushion to make your wheelchair more comfortable, you can be sure to find it at our local pharmacy. Some of the surgical supplies we offer include:
Wound care solutions
Controlled Ankle Movement (CAM) walking boots
Post-operation shoes
Air casts
Jobst and Medi surgical stockings
Lumbar supports
Wheelchair cushions
Decubitus pads
Back braces
Knee braces
Wrist braces
Ankle supports
Spenco and Pedi Fix foot care
Surgical masks and gloves
Visit Us Today!
We carry the medical equipment and surgical supplies you need all under one roof. Anything you may need to make your daily life a bit more comfortable, Vanco Pharmacy can lend a helping hand.
Contact Us for All Your
Family's Healthcare Needs